Design features:
•pump power and pressure on each piston diameter allow forced drilling practices;
forged fluid ends made of high-strength alloyed steel;

ion nitriding of the gear transmission;

hydraulic seal of the cylinder and piston assembly;

double-chamber seal of the slide block rod for excluding oil leakage from the case, its contamination with drilling mud;

lubrication of reduction gear through two systems:
-pressure lubrication with automated maintaining of constant pressure in the oil line;
-gravity oil system lubrication from storage trays;
safety valve of the locking device;

drive transmission at any side of the pump or at the both sides;

suction and discharge headers for pipes connection from both sides.
Advantages of UNBT-series pumps:
possibility of forced drilling practices

full accordance to drilling practices requirements;

minimum degree of irregularity of discharge pressure;

less consumption of valves and piston rods in comparison with double-acting duplex pumps;

guarantee of the pump specified life;

mud pumps drive switching-off when pressure in the delivery pipe is exceeded, with simultaneous release of the excess pressure;

pump stroke-independent lubrication.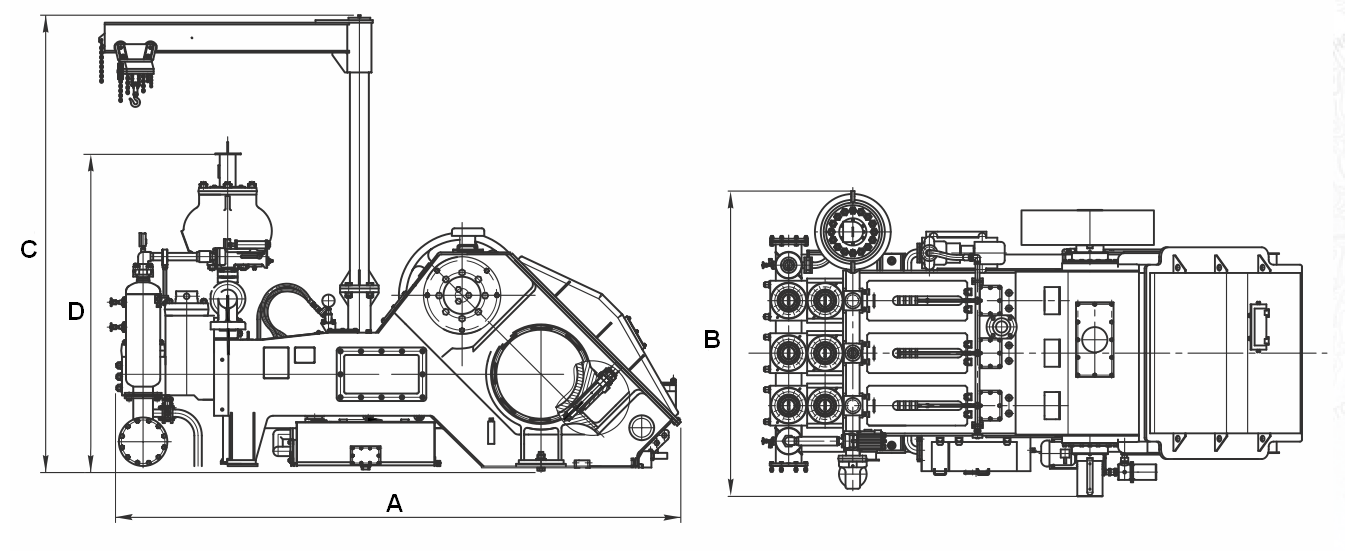 Dimensions, in.
| | | | | | |
| --- | --- | --- | --- | --- | --- |
| Dimension/Model | UNBT 600L | UNBT 1180L | UNBT 1180M | UNBT 1180L-52 | UNBT 1600L |
| А | 157.3 | 191.1 | 199.5 | 191.2 | 218.4 |
| B | 92.5 | 113.4 | 93.2 | 114.1 | 123.7 |
| C | 135.4 | 147.6 | 142.7 | 147.6 | 146.3 |
| D | 80.7 | 107.6 | 108 | 106.9 | 109.1 |
| | | | | | |
| --- | --- | --- | --- | --- | --- |
| Parameters/Model | UNBT 600L | UNBT 1180L | UNBT 1180M | UNBT 1180L-52 | UNBT 1600L |
| Pump power, hp (кВт) | 815 (600) | 1600 (1180) | 1600 (1180) | 1600 (1180) | 2040 (1600) |
| No. of cylinders, pcs. | 3 | 3 | 3 | 3 | 3 |
| The lowest pressure at the pump inlet, psi (MPa) | 29 (0,2) | 29 (0,2) | 29 (0,2) | 29 (0,2) | 29 (0,2) |
| Maximum speed of input shaft, rpm | 160 | 125 | 125 | 125 | 110 |
| Piston stroke, in. (mm) | 8.858 (225) | 11.42 (290) | 12.99 (330) | 11.42 (290) | 14.96 (380) |
| Discharge flow (max), gpm (l/s) | 806.7 (50,9) | 814.7 (51,4) | 924.1 (58,3) | 814.7 (51,4) | 1146.0 (72,3) |
| Operating pressure (max), psi (MPa) | 5076 (35) | 5076 (35) | 5076 (35) | 7542 (52) | 7542 (52) |
| The degree of unevenness of the pressure at the pump outlet, not more than, % | 5 | 5 | 5 | 5 | 5 |
| Conditional pass inlet manifold, in. (mm) | 7.874 (200) | 9.843 (250) | 9.843 (250) | 9.843 (250) | 9.843 (250) |
| Conditional pass output header, in. (mm) | 3.937 (100) | 3.543 (90) | 3.937 (100) | 3.937 (100) | 3.543 (90) |
| Weight, lb (kg) | 33008 (14972) | 49218 (22325) | 43171 (19582) | 52250 (23700) | 71525 (32443) |