Design features
Reliable labyrinth seal of the oil bath protects it from ingestion of the drilling mud, in this regard the life time of the gear pair and the main support of the rotary table is extended.
Bevel gearwheels are skew with helical angle 30°, due to this the exactitude and the smoothness are increased, noiseless operation is ensured.
Cast frame is designed for mounting and fixing of an air-actuated power slips. It enables to mechanize gripping and to free drill and casing pipes strings during the round-trip operations.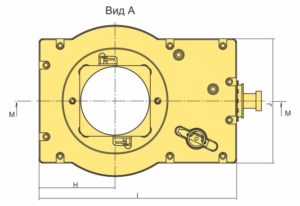 Specifications
| | | |
| --- | --- | --- |
| Parameters/Model | R-700 | R-950 |
| Rotary table opening, in. | 27,56 | 37,40 |
| Rotary table safe static load, lb. | 1 102 311 | 1 388 912 |
| Rotary table static torque, ft.-lb. | 579 | 868 |
| Rotary table speed, rpm (not more than) | 350 | 350 |
| Driving shaft to rotary table gear ratio | 3,61 | 3,81 |
| Weight (without bushing), lbs. | 10560 | 15432 |
| Dimensions, in | | |
| А | 89,37 | 95,47 |
| В | 26,77 | 29,53 |
| С | 29,13 | 34,45 |
| С1 | 26,18 | 30,12 |
| D | 76,57 | 81,30 |
| E | 60,83 | 72,83 |
| F | 12,01 | 12,99 |
| G | 47,24 | 61,02 |
| H | 30,51 | 36,42 |
| I | 79,13 | 85,24 |
| J | 50,00 | — |