Cluster drilling rigs of 800 to 2000 hp power range, of 8200 to 26200 ft drilling depth. Depending on Customer's requirements, cluster drilling rigs are equipped with an open-face mast or a tower derrick, easy-to-assemble, and also have different types of shelters – sandwich panels or soft shelters on metal frames. Depending on Customer's requirements, drilling rigs are equipped with a mud system of 1700 to 3100 bbl capacity and different types of auxiliary and cleaning equipment sets.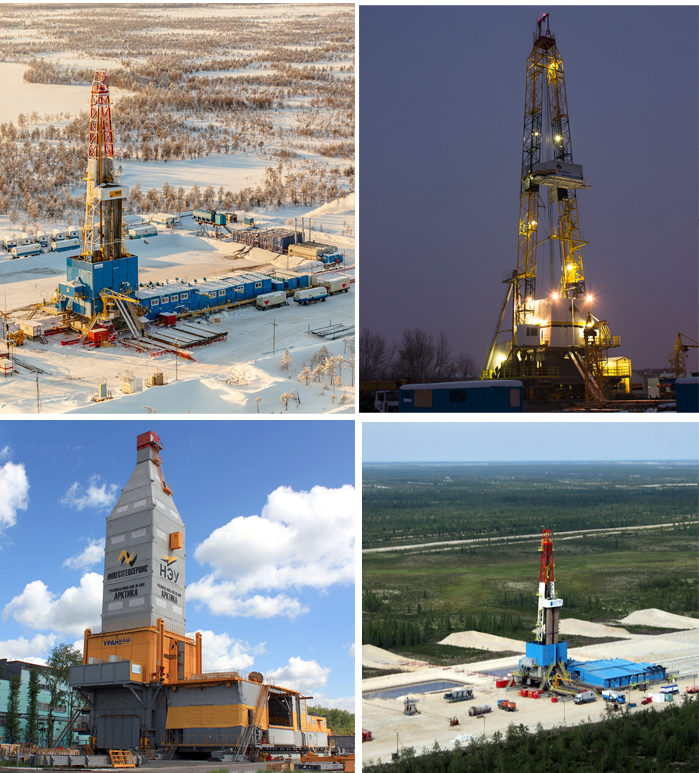 Cluster drilling rigs are also made in different versions:
land-cluster drilling rig;

train-type drilling rig;

two-train type drilling rig;

two-train type multi-floor drilling rig.
Design features:
modular design;

modules built-in mechanization and assembly means;

electric DC or digitally controlled electric AC variable frequency drive;

modern mud system with four- and five-stage drilling fluid cleaning system.
Heating system: combined (boiler plant, electric heating coils, fan heaters, tubular electric heating elements)
Industrial safety:
driller's cabin with temperature control system;

diesel-electric stations with automated fire control systems;

loud-speaking communication, video surveillance, audio alarm systems;

derrickman evacuation system;

mud pumps, rotary table and drawworks drives interlock systems.
Ecological properties:
exclusion of drilling mud and fluids leaking under the drilling rig;

reduction of made-up ground area of the cluster site.