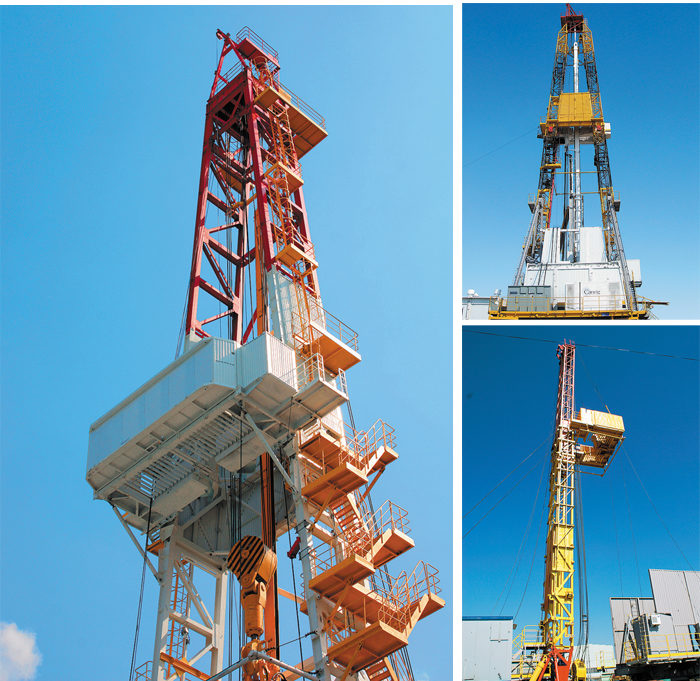 Classification:

By function:
•for workover rigs;
•for mobile drilling rigs;
•for cluster and land drilling rigs;
•for offshore drilling rigs.
By design:
•mast derricks (А-type, U-type, 4-leg derricks, open face derricks);
•tower derricks.
Today in drilling rigs design, open face derricks are the most widely applicable.
Open face derrick advantages:
•convenience of the top drive installation;
•the substructure erection in down position without special heavy-duty cranes;
•reduction of rig-up time;
•drilling rig transportation from one drilling location to another in vertical position by large block,
without additional re-erection.
Parameters/Model
M 34/160 OG-R
 M 33/200 OG-R
M 45/225 R
M 45/320 R
M 46/320 OG-R
B 53/400 R
M 46/450 OG-R
M 46/500 OG-R

Max. static hook load,




lbs. (m)

440924 (200)

529109 (240)

595248 (270)

846575 (384)

846575 (384)

105821 (480)

1190496 (540)

1322773 (600)

Distance between rotary




table and lower part of




crown block frame, ft. (m)

111.5 (34,0)

108.2 (33,0)

149.6 (45,6)

147.0 (44,8)

150.9 (46)

147.6 (45)

150.9 (46)

150.9 (46)

Distance between pins of




lower and upper hinges at




the support, ft. (m)

—

113.7 (34,66)

156.0 (47,55)

156.0 (47,55)

161.1 (49,11)

—

171.2 (52,2)

171.2 (52,2)

Subbase (distance between




pins of hinges at the




support of derrick legs), ft. (m)

transversely catwalk axis

—

4.9 (1,5)

—

—

—

32.8 (10,0)

—

—

along catwalk axis

8.8 (2,7)

10.5 (3,2)

33.8 (10,3)

33.8 (10,3)

32.8 (10,0)

32.8 (10,0)

32.8 (10,0)

32.8 (10,0)

Upper base (distance
between crown block
frame supports), ft

along catwalk axis

2.9 (0,89)

3.0 (0,91)

7.5 (2,3)

7.5 (2,3)

8.5 (2,6)

9.2 (2,8)

8.5 (2,6)

8.5 (2,6)

transversely catwalk axis

3.9 (1,2)

5.6 (1,7)

8.5 (2,6)

9.6 (2,93)

8.5 (2,6)

9.2 (2,8)

8.5 (2,6)

8.5 (2,6)