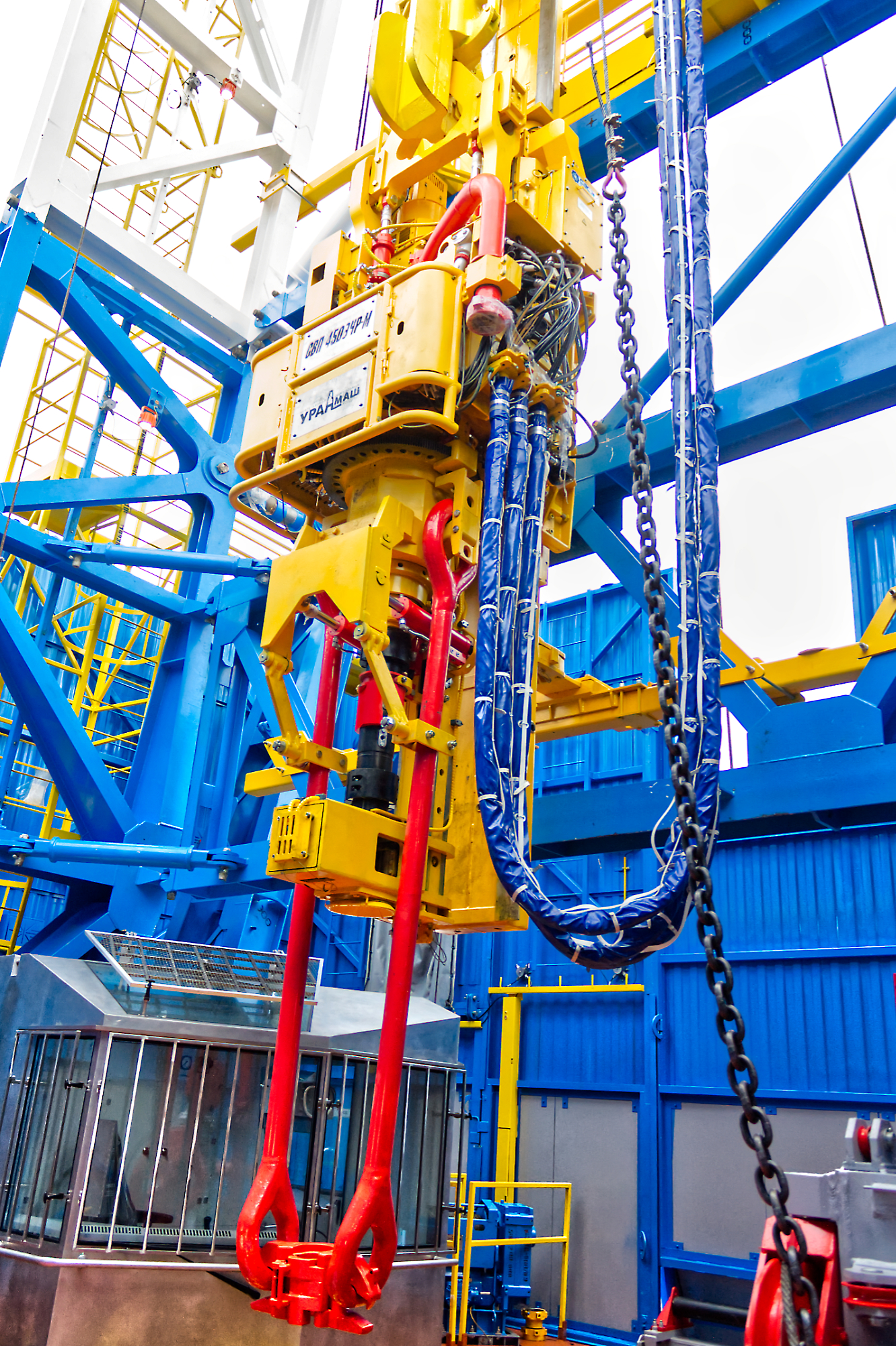 The advantages of using TDS:
time saving in the process of pipe extension during drilling;

reduced probability of stuck pipe drilling equipment;

expansion (development) of the wellbore during the descent and ascent of the tool;

improved accuracy of drilling operations for directional drilling;

increased safety of the drilling crew;

reducing the probability of uid release from the well through the drill string;

relief of the descent of the casing in the zones of complications due to rotation and ushing;

improving the quality of core.
Design features:
hydraulic caliper brakes on disk type in each electric motor;

traverse beam with rotating of the pipe handler by 360º;

automatic threading off-loading system;

oil heating system in the reduction gear and the hydraulic tank;

IBOP, working pressure 5000 PSI or 10000 PSI;

built in uni ed hydraulic unit;

uni ed circulating system of hydraulic uid cooling and ltering;

guide beam;

control container – VFD-TDS.
The constructive design of the TDC allows it to be installed on drilling rigs of the corresponding load capacity of all domestic and foreign manufacturers.
Specifications
Parameters/Model
SVP 250
EChR
SVP 320
EChR
SVP 450
EChR
SVP 450
EChR-М
SVP 450
EChR-P
SVP 500
EChR

Maximum Load capacity as per API, short ton

275

353

496

496

496

551

Maximum variable torque during drilling, lbf ft

33190

39681

47941

51616

53104

Maximum rotation speed at max. variable torque, rpm

90

105

110

110

110

Maximum rotation speed , rpm

200

211

220

220

250

Maximum breakout torque, lbf ft

47941

59005

73756

77424

79756

Pipe clump range, in

3'1/2 – 8′

5′ – 7'3/4

3'1/2 – 8'5/8

3'1/2 – 8'5/8

3'1/2 – 8'5/8

Working pressure of mud pump, PSI

5000

5000

7500

7500

7500

Main drive type

Electric AC

Drive electric motors power, HP

603

804 (2х402)

1072 (2х536)

1072

1206 (2х603)

Weight, lb

25353

31967

32848

34171

40785

38581