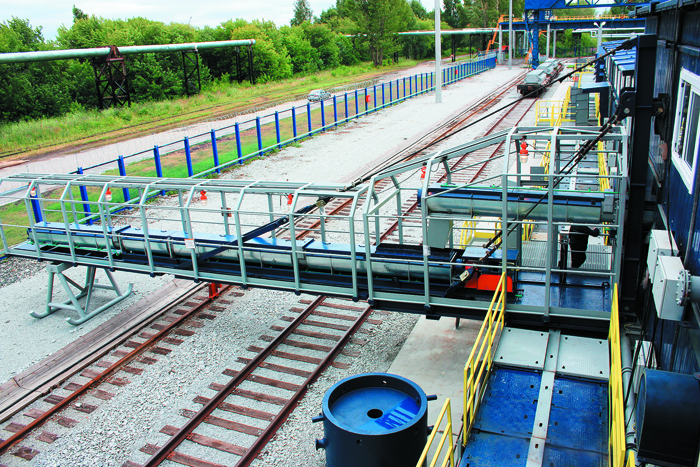 Design features:
Absence of intermediate bearing assemblies of the screw.

Absence of special receiving boxes. Sludge from the shale shakers, hydrocyclones and centrifuges is removed through the sloping shoots of the cleaning equipment directly to the screw blades.

To prevent freezing of conveyed materials the screw conveyer body is equipped with a steam jacket which enables to operate the conveyer under sub-zero temperatures.

Sliding supports are designed to compensate thermal expansion.

Simplified access to the bearing assemblies for repair and replacement of the bearings.
Specifications
Parameters/Model
KSh 16
KSh 20
KSh 25
KSh 32
KSh 40

Flow rate, gallon/hour, not less than

4226

5283

6604

8453

10566

Screw rotary speed, rpm.

40

40

45

42

40

Screw diameter, in

11.8

13.7

15.7

17.7

19.6

Screw thickness, in

0.23-0.39 (as agreed upon with Customer)

Installed electric motor power, HP

10.2

Electric motor supply voltage, V

380

Steam pressure in steam jacket, PSI (bar)

 9.4 (0.65) — 116 (8) (as agreed upon with Customer)

Steam temperature, °С, not more than

140

One screw conveyer working part length, ft

11.15-53.8

Armoring of screw surface edge with wear-resistant materials

as agreed upon with Customer

Steam jacket body thermal insulation

as agreed upon with Customer